Policygenius review: Compare personalized insurance offers
Rating as of based on a review of services March 8, 2023.
Policygenius is an unaffiliated insurance broker and online marketplace designed to help users find the right insurance policy for their needs. Policygenius compiles offers from many different companies for life insurance, homeowners insurance, health insurance, and more. The platform is free and easy to use.
---
Best for:
Saving money
Expert advice
Comparing multiple providers
---
Editor's Note - You can trust the integrity of our balanced, independent financial advice. We may, however, receive compensation from the issuers of some products mentioned in this article. Opinions are the author's alone. This content has not been provided by, reviewed, approved or endorsed by any advertiser, unless otherwise noted below.
Buying insurance — whether for yourself, your pet, or your apartment — is an uncomfortable affair. You're essentially asked to imagine and plan for worst-case scenarios.
Will you forget to blow out a candle in your rented condo and burn the entire complex down? Will your beloved spaniel swallow a sock and require a $5,000 surgery?
If those fears are keeping you up at night, Policygenius aims to make insuring against those unpleasant — if unlikely — events a little easier. With Policygenius, you can evaluate your own insurance needs and shop around for the best fit for your financial life.
What is Policygenius?
Policygenius is an independent insurance broker and marketplace. This means it isn't locked into offering insurance from only one insurance company and its aggregation tool lists several different policies from a range of providers.
Note that Policygenius itself does not underwrite insurance policies directly.
Types of insurance offered by Policygenius
Term and whole life insurance

Pet insurance

Homeowners insurance

Renters insurance

Long-term disability insurance

Short-term disability insurance (in some states)

Health insurance

Vision insurance

Auto insurance

Identity theft insurance

Jewelry insurance

Long-term care insurance

Travel insurance
Read more: How much insurance should you have?
Policygenius pros & cons
P
r
o
s
Multiple options in one place — Save time by visiting just one website instead of multiple in order to get quotes from each.
Educational tools — Policygenius provides a wealth of information including access to insurance experts to help you make an informed decision.
Tailored recommendations — Policygenius generates a customized list of offers based on your personalized information and history.
C
o
n
s
Additional steps required — Policygenius just redirects users to their recommended insurance providers. You may need to input your information again to get the final quote from the provider.
Some providers omitted — Policygenius doesn't include every option out there.
How Policygenius works
On the Policygenius website, you'll enter some basic information (which can be more or less extensive depending on the policy you're looking for). Then, Policygenius runs it through its algorithms and returns your best options. You can complete as many applications and compare as many offers as you'd like.
After you choose an offer, you'll be redirected to the website for that insurer. From there, you'll work directly with this company to finalize your application.
How much does Policygenius cost?
Policygenius itself is free to use, as it makes its money through commissions from the insurance companies for each sale. Those commissions are already included in the price of the insurance policy, so you're not paying any extra for using Policygenius.
However, the actual cost of the insurance you're shopping for will vary based on several factors including:
Type of insurance

Amount of coverage

Risk factors

Several other variables
It's important to note that Policygenius doesn't show you every insurance option available. It is possible you could get a better rate using a company that doesn't work with Policygenius. That's why it's always a good idea to still do some shopping around.
Policygenius application process
To give you an idea of what the application process is like, I'll share my example of getting a life insurance quote with Policygenius. The whole thing only took me a couple of minutes.
First, I filled out the information in the widget above.
From there, Policygenius asks a few questions about your motivations for getting life insurance. You can select all that are true from choices including creating a safety net for your loved ones, protecting your income until retirement, and several others.
Once you've specified your unique situation, Policygenius asks what kind of life insurance you're looking for. The options are term, permanent, and "I'm not sure."
Next, you'll provide some basic information. You'll need to include your gender, birth date, zip code, citizenship status, and marital or relationship status.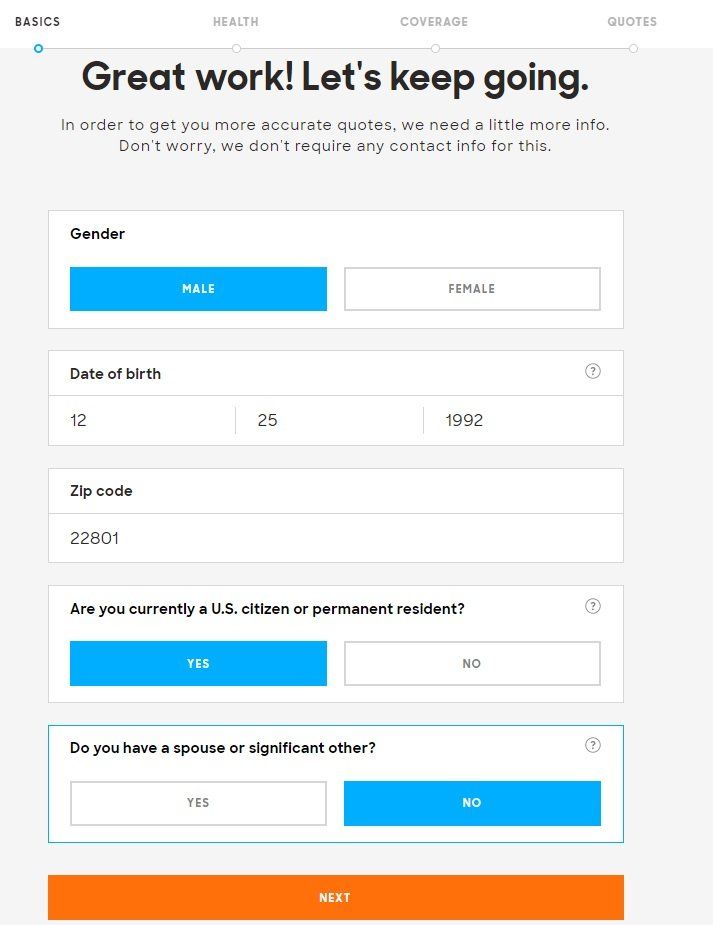 Then the application requires personal information about the following:
Height

Weight

Tobacco use in the last five years

If you've ever taken medication for or been treated for a list of health conditions

If you have had your license suspended or revoked or had more than one ticket or accident in the past five years
After this, Policygenius shares the starting rates for life insurance policies depending on the amount of coverage and the term you pick.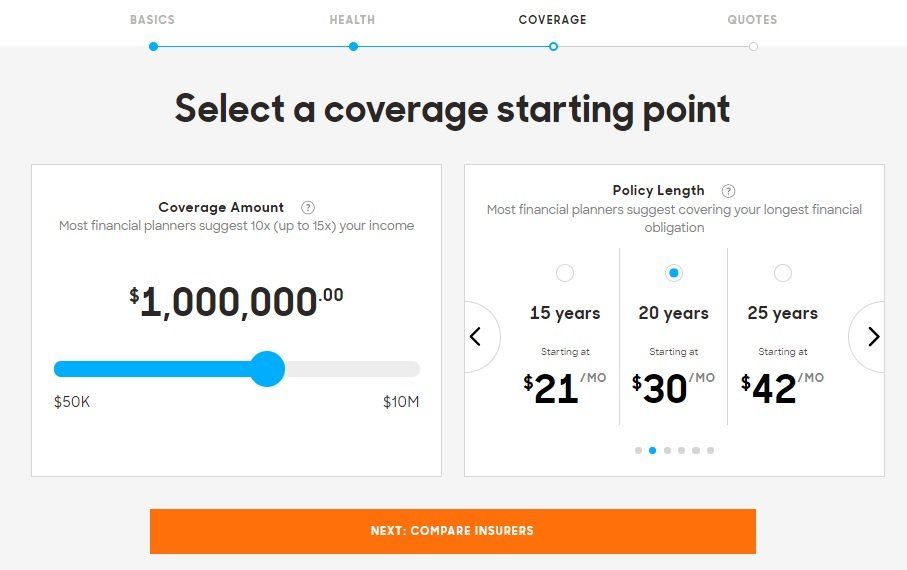 At this point, you'll be prompted to create an account with Policygenius to progress further. To do this, you'll provide your name, address, email, phone number, annual income, and how you heard about Policygenius.
When you're done with your application, it'll start processing. Soon, a licensed expert will review your submission and confirm details over the phone.
Once your general application is completed, you'll be able to compare your personalized offers and choose the right policy for you. If you want to apply for coverage, the life insurance company you choose will finish reviewing your information and request any additional materials required. This may require you to submit a medical exam.
Policygenius features
Policygenius's goal is to make buying insurance easier. To help you along the process, they offer several features.
Live help
Policygenius offers live chat features throughout the site. If you scroll all the way down to the bottom of the home page, there's a button that says "Chat with a life insurance agent." You'll just type in your question and wait to be connected with a Policygenius expert to help.
I've clicked this box and chatted with representatives. They seem like real people and not robots using artificial intelligence to answer basic questions.
Representatives work on salary
—

not commission

If you do decide to talk to a representative, they aren't going to be pushy salespeople. While their job is to answer your questions to get you to buy insurance, they don't work on commission. By being salaried, they aren't incentivized to push you into products that aren't a good fit for you or promote products disproportionately.
Get multiple quotes
With Policygenius, you only have to input information once to get quotes from multiple companies. If you did this on your own, you'd have to re-enter the information on each individual insurer's website. This saves you time and money at the same time by allowing you to price shop at multiple carriers.
No-medical-exam insurance available
Policygenius gives you a number of different options for no-exam life insurance. Brighthouse Financial, Lincoln Financial, Foresters Financial, and Mutual of Omaha all provide no-exam policies with varying levels of coverage.
For example, Brighthouse Financial offers affordable term policies and decisions in as little as 24 hours, making it a strong choice for a lot of applicants. You can get a quote from any of these companies through Policygenius.
Read more: Everything you need to know about no-medical-exam life insurance
My experience using Policygenius
I was surprised by how simple it was to get a quote with Policygenius. I expected to get asked many complicated questions I may not have the answers to.
Thankfully, Policygenius explained a lot of my questions when I hovered over the little "?" symbols next to topics that people commonly feel confused about. I also felt better knowing I could talk to a Policygenius expert at any time if I needed help.
While I don't mind talking on the phone when I have to, the online chat feature was my favorite option. When I used it, I got real answers quickly from a human, not a chatbot trying to save the company money.
It was helpful to see pricing differences and compare coverage between policies.
Using the dropdown menus also made it easy to see if buying a bit more insurance would be affordable for my family or not worth it.
Why you should use Policygenius
It's easy to use
Buying insurance involves a lot more variables than buying an airline ticket. This is where Policygenius really shines by making its interface easy to use and the arcane terminology of the insurance business easy to understand.
Almost every bit of information comes with a little "?" link in the corner of each box that will explain exactly what that rating, question, or term means.
There are also extensive FAQs and guides for each type of insurance. Start poking around to better understand how different types of insurance work and what sort of coverage you might need.
Educational resources
This is all part of Policygenius's larger mission, which is to educate younger consumers about why they'd even want life insurance, renters insurance, or long-term disability. That's one reason Policygenius created Insurance Checkup, a tool to help you determine whether you're underinsured. Spoiler alert: You probably are, at least by Policygenius's standards.
The module asks you questions about your net worth, your income, your living situation, your existing insurance policies, and your tolerance for risk.
Then it tries, very gently, to explain why you should have more insurance and also probably more money socked away. I already have homeowners insurance, but Policygenius suggested I also get term life insurance and long-term disability. And it wanted me to "think" about dental insurance, pet insurance, long-term care insurance, and critical illness insurance. Make no mistake: Policygenius is pro-insurance.
Read more: When do you need to buy life insurance?
Real-life examples
Aside from its extensive FAQs and Insurance 101 guides, Policygenius also has several case studies to show the different types of policies that are appropriate for different types of people.
Transparency
Policygenius is remarkably forthcoming about the pros and cons of each insurer, rating them on the application process, customer service, and other factors.
Why you might not want to use Policygenius
Not all insurance companies represented
While Policygenius offers a wide range of top-notch insurers, they don't offer life insurance through every possible insurance company. It is possible you could get a better quote from a company that Policygenius doesn't partner with.
If you do find a better deal elsewhere with a quality insurance company for similar coverage, it often makes sense to go with the company offering the best deal.
You'd rather deal with someone face-to-face
Some people are more comfortable making decisions when they can talk to someone face-to-face. While Policygenius allows you to talk to someone on the phone or through online chat, you can't meet with their representatives in person.
If you prefer in-person contact, Policygenius won't be a good fit for you.
You have unique circumstances
Life insurance is easy to get if you're healthy. Those with more unique health circumstances may find it more difficult to get insurance, though. In these cases, it can help to have someone work with you in person to help determine all of your options.
Policygenius can work with you over the phone or using online chat, but complex discussions often are more confusing when you aren't speaking with someone in person.
Policygenius vs. the competition
If you aren't comfortable using Policygenius or would prefer to shop directly with providers rather than through an aggregator, here are a few insurance companies to check out.
Credible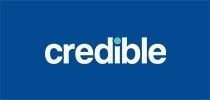 Types of insurance offered:
Home insurance
Auto insurance
Policygenius and Credible aren't exactly the same. Policygenius is an insurance aggregator while Credible is an independent platform that lets you shop for a number of different financial products. This marketplace features everything from loans to insurance but is perhaps best known for personal loans and student loan refinancing.
For insurance, one of the main benefits of Credible is the range of options. Although you can only choose from home and auto insurance, Credible features more than 40 different providers so you can compare more offers at a time. And like Policygenius, Credible offers online and phone support if you have any questions about a policy.
For homeowners insurance and auto insurance, consider plugging your information into both Policygenius and Credible. Both platforms are free and this will give you more options.
Fiona
Types of insurance offered:
Auto insurance
Life insurance
Fiona by Even Financial is another comparison platform that should be on your list to check the next time you're looking for insurance. Like Credible, Fiona does more than just insurance – loans, credit cards, and savings accounts are a few of the other products you can find and compare in this marketplace.
Fiona's insurance offerings are limited to just auto and life, so it's not the one-stop-shop Policygenius is. However, Fiona is easier to use than Policygenius and sometimes offers lower rates. It just depends on where you're located and what kind of policy you're looking for.
Fiona is at least worth using if you need new life or auto insurance coverage, but remember that you aren't likely to have many options.
Summary
If you've never thought much about life insurance, or have been scared off by the frustrating experience of buying it, then Policygenius can help you sort through what policy — if any — you need.
Read more: